Paltalk has a lot of rooms, at the moment I was writing this article (december 2010), it was 3892. All rooms are categoriesd by Topic and by Location.
Chat room window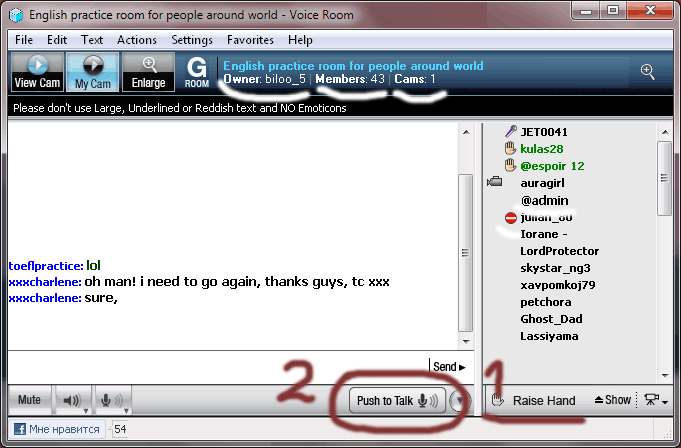 Here is the window of a chat room

in the top you see the room name, owner of the room, amount of users and number of cams.
How to talk
You need to click push to talk button or press control key on your keyboard. Usually people raise their hands to show that they want to say. So at first you need to raise a hand, then click push to talk. Only one person can speek at time. There is a microphone icon near the person who currenly speaking, but sometime because of technical issues you can hear the person, but see no icon. (sad thing)
Red dots
Do you see the red dot sign biside the nickname? It means that someone has been reddoted. Once person is reddoted he cannot take a microphone. Sometimes there are people who speak silly things, or just forget to drop the microphone.
Bounce
It is about administration. To bounce means to kick someone out of the room. yes there are people who do not follow rules, insult people, etc. so admin need to bounce them.
Whisper
Whisper is when you speak very quietly. In a chat room it means that only person you send a whisper will see it, and no other memeber who are in a chat room. To send a whisper you need to click on the nickname and choose send a whisper.
How do I create my room.
It's pretty easy, you need to login to paltalk website and then go to my account -> chat rooms > edit/manage my group or you can choose in menu favorites -> my room and it will lead you to paltalk where you can create your room. You can also lock your room with a lockword. Only people who knows the password can enter your room.
admin console is where you can manage your room. I think it does not require explanation. Room message is the message that will be in the top of the room. Also there is a close the room button. When you got tired of talking do not leave your room open because people stll will be able to enter your room, they can take a mic, insult people, press close the room button