Sometimes voice is breaking up in that case try to reboot your PC. Hold control button on your keyboard to say, you will see the push to talk button will turn into green transmitting. If you transmitting button blinks, it mean your voice is breaking.

How to play music in paltalk room?
Sometimes people ask how to play music in their own room? You need to choose stereo mixer as input for record. double click on volume icon
click parameters -> properties then choose record.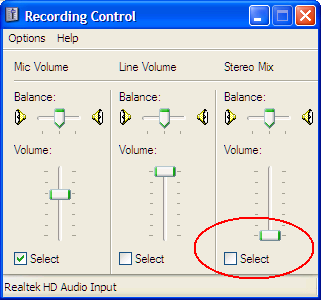 Choose stereo mixer as input for record
When you are admin in chatroom you can use shift+click on member to red-dot him.
How to enter the room as a guest?
It's not from paltalk program but website. You can enter room as a guest from the website. You need to browse the room or find the room on the website. As you enter the room as a guest you can't write or speak you are a spectator. Members in the room do not see the guests.
Can only one person speak at the same time?
Not really. In usuall rooms only one person can speak at the same time. In paid rooms up to 3 people can speak simultaneously.
What do
G

R

A

letters mean?
G

rated room intended for a General Audience including minors. Offensive language is not permitted.

R

rated room inappropriate for minors. Adult language is permitted, however nudity is not.

A

rated room intended for adults only.
Let other know where you are
You may show other users the room you're currently are. Select "Show Other the room I'm in" from dropdown list under status.
Can I view the cam more than 5 seconds as a free memeber?
In private messages it is unlimited.
What is 1, 2, 1212
It's a fast way to answer about your connection. 1 means you're heard. 2 no sound. 1212 vou have a sound problem.